Such an accelerator rarely exists across continental countries and now it's even more exciting to know we will be doing so with the partnership that the team @CAMP Australia and Andrea Myles have planned for us in the 5 days in March. The CAMP 2017, 150 strong delegation made of entrepreneurs, leaders, graduates are all eager and ready to collaborate, solve and forge new relationships in the upcoming 100 days both in Shanghai and Sydney.
Among the Think Tanks will be Alibaba's partnership with CAMP to lead the e-commerce Think Tank with their own challenge proposal for the select group of delegates of CAMP.
I personally have not come across such an initiative that focuses purely on building stronger bi-lateral relationships needed to drive innovation in the 22nd century, across our two countries. Unique in it's delivery and partnerships this year's CAMP will be a life-changing experience for me that I am really looking forward to with anticipation of the relationships we will build and the problems we will solve amongst the Think Tanks.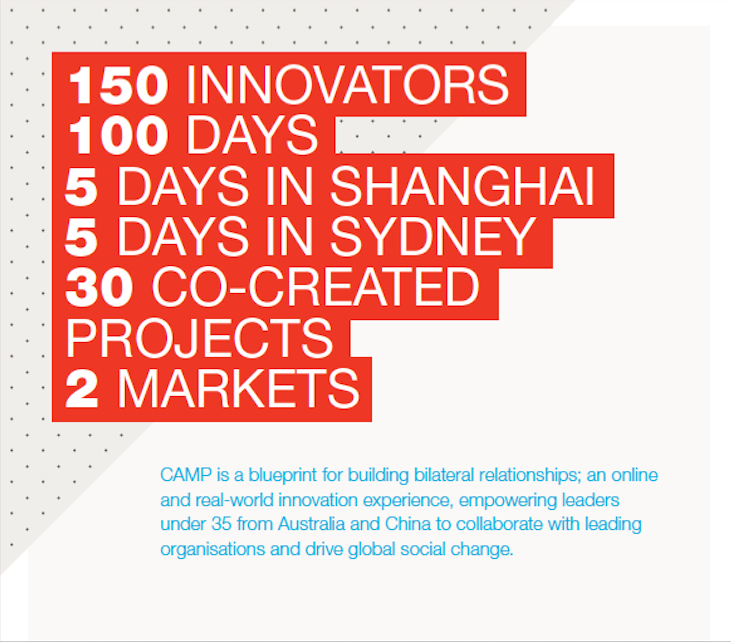 "Alibaba's founders started the company with a vision of making it easy for small businesses to thrive globally. The partnership with CAMP exemplifies this by focusing on entrepreneurs."

Maggie Zhou, MD AUSNZ Alibaba Group