This will take approximately 15mins to read. All views expressed here are my own.
Next Tuesday will n-e-v-e-r be the same again.
Even before I had begun to rise on Day 1 of #CAMPx2017 I was up before crack of dawn it didn't dawn on me (yes I did just write that) the sheer weight of this experience. We were circulated itineraries a couple weeks before our respective flights. And so for 150 delegates for the cohort of 2017, the CAMP (Chinese Australian Millennial Project) officially kicked off on Wednesday March 22nd, 2017 in Shanghai, China.
Day 1#
5:11am wakeup call. Breakfast consists of normal staples of course; chicken nugget, congee, boiled egg, green tea, slice of toast. I was meant to meet another delegate friend but the room is empty, so I sit alone, waiting in what I thought was the breakfast hall. WeChat notification pops up ( The #1 app you need here in China) and she messages where am I? "Well here of course, where art you?" (paraphrasing) Next thing I know out she pops and says "we are all in the other room". I follow, haphazardly carrying my breakfast tray with my chicken nugget, congee, boiled egg, green tea, slice of toast and we enter into a room buzzing with hotel staff, weary hotel guests and smelling of delicious breakfast food. Like food, not chicken nugget, congee, boiled egg, green tea, slice of toast (no offence to chicken nugget, congee, egg, tea and toast lovers cause I'm one myself, but this room had more variety and #mayhaps I would have not chosen such a combination for breakfast).
Life lesson learned 1# Don't assume, question everything.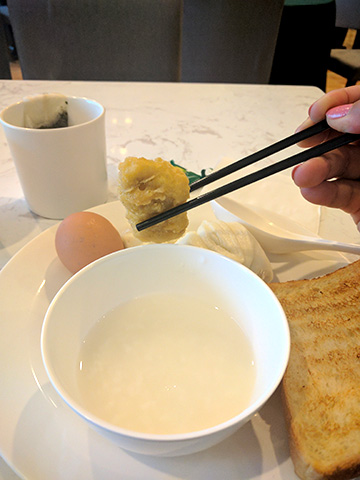 We collect our goodie bags, hoodies, name tags, pins and water bottles from the CAMP team member squad  and shuffle on to the two buses destined for Intel offices in Pudong Xinqu, 1.5hr north east of the city. We are welcomed by Andrea Myles the CEO of CAMP. Her enthusiasm and energy is contagious. The room of delegates and speakers are introduced: from Swisse Luke Dillon (GM of Wellness China), Elise Morris (Director of People & Culture), from Invest Shanghai Lynn Zhang (PM Shanghai Foreign Investment Development Board) and Shanghai WE Innovators Brent Li (Founder). From humble beginnings Swisse, the health and wellness company and  brainchild of Kevin Ring an organic baker and enthusiast in medicine, in 1969 Melbourne, is truly a great Aussie success story. Luke described the role and scale of current Swisse operations. With their growth expanding and huge success in China, it was interesting to learn of the their future strategy in China, having been bought out recently by Hong Kong company Biostime. Luke encourages us to be active participants in this CAMP journey, sharing  that a previous CAMPer Isaac Huang, from the 2015 cohort had joined the Swisse team after meeting and connecting during the CAMP experience.
Life lesson learned 2# Opportunities are around every corner, seize every moment, live life to the fullest.
Lynn launches into the current climate/state/the current trends of Shanghai Foreign investment. 2015 saw 15+Billion USD invested in the service industry. All the major global companies have a foothold here and it's growing. To manage it all, the team have established 10 major development zones, which include a combination of technology, industry, economic, tourism and trade development parks. She shares cultural and specialisation challenges that businesses have faced entering into this market. China is vast. It's markets are varied. It's cities and the people living in them are too. Localisation in Shanghai requires pre-market validation.
Life lesson learned 3# Do your homework. You can not cookie cut here.
By now the energy in the room has waned. Maybe from jet lag, maybe from sitting down too long, maybe from having a chicken nugget, congee, boiled egg, green tea and slice of toast for breakfast. Elise jumps onto microphone and enthusiastically says "I do my best work without shoes on" (paraphrasing) kicks them off and tells us all to jump out of our seats and run, jump on the spot to get all our bodies energies back up. There's a collective rapture that rises; voices and laughter can be heard and we all charge up our bodies and settle back down as Elise begins to share her role in Swisse, the founders stories and the traits they had and what to lead with. Isaac is called up to help pen the '12 Entrepreneurial tips'. They resonate so much with my journey, and hearing her own challenges and how she overcame them and went on  to lead the People and Culture team at Swisse is encouraging. "The only time we grow is in a state of discomfort, embrace fear and that will see you grow".
Life lesson learned 4# You are what you believe in. Amplify your strengths but don't ignore your weaknesses. Flip the equation!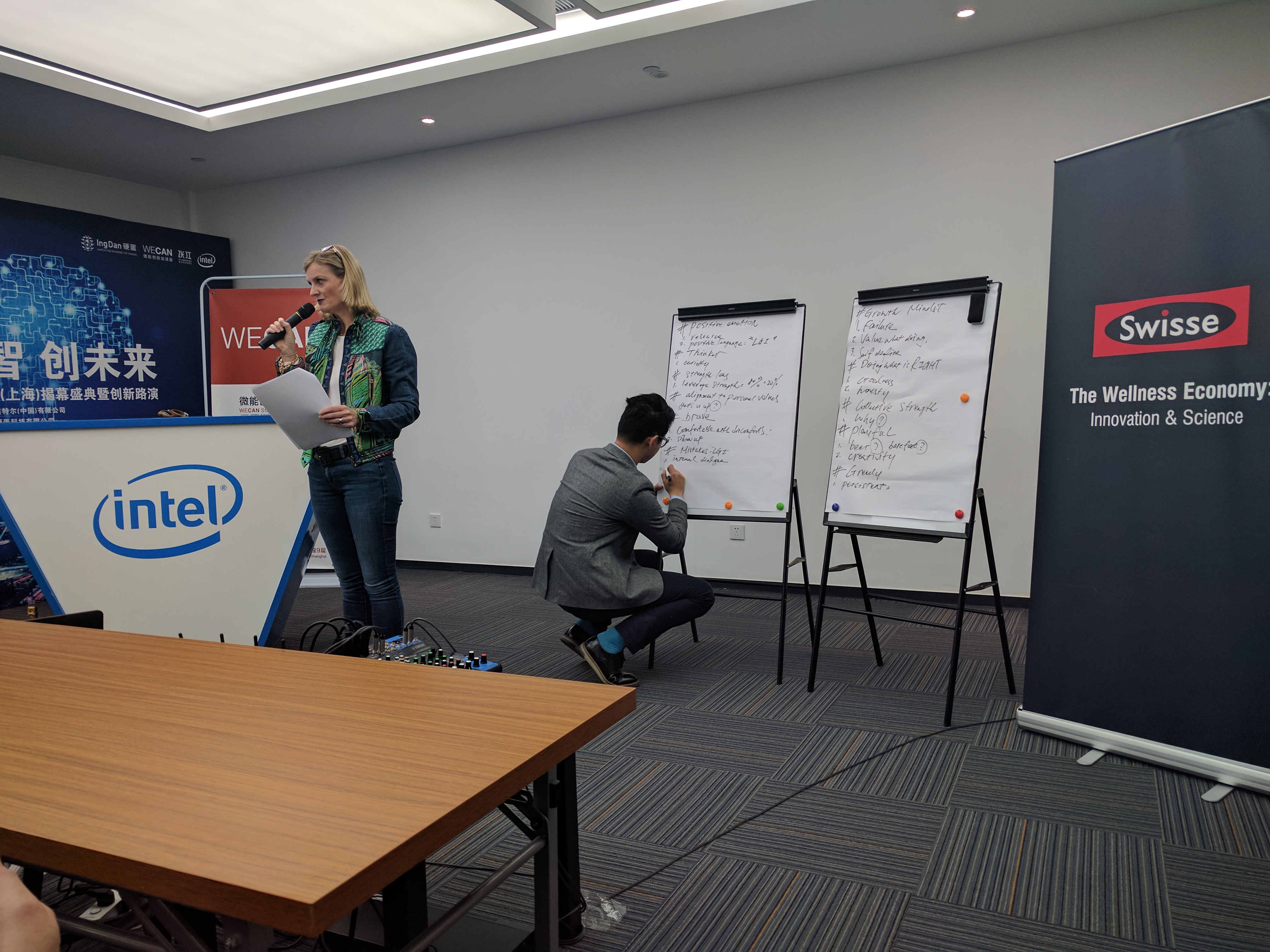 We break afterwards for a lunch. We meander through the Intel offices, observing the robotics around the floor, the rooms decorated with prototypes of the #nextbots #machinelearning experiments. I'm on a tech high! I run into fellow CAMPers equally enjoying the day and we share our backgrounds over a canteen style lunch. It's a diverse bunch of collective professionals and recent graduates each of who I'm slowly learning, shares an ingrained passion for their cause, their belief, their work  and why they joined CAMP.
Life lesson learned 4# #mykindapeople do exist.
Back on Level 9 Andrea says we have a special guest coming, the owner of the WE innovation space we currently are in at Intel, Brent Li. But before she does we have an open Q&A about the CAMP journey so far. It started online a few days earlier as part of the co-collaboration platform, which shares itinerary and framework details about CAMP. It's an opportunity for CAMPers to just share thoughts and questions about the experience so far. At this stage a lot of the networking has also happened in WeChat and we know of or can connect with other CAMPers and begin conversations about everything already.
Brent Li begins the conversation about Intel his background working at Apple, McAfee, IBM and his aspirations for the WE Accelerator. His words are impassioned and he invites everyone in the room to come back to Shanghai and participate in the accelerator, a chance to work with the programme involving Singularity University.
We then break again for the introductions into our Think Tank teams, which up until this point have been kept secret. Before we started we were given the choice to select 3 Think Tanks we wanted to join out of a total of 15. Andrea calls out the groups and CAMPers depart into the WE Innovation space to begin learning from each other, sharing our thoughts, experiences so far, backgrounds, and vision. I'm lucky as I have my first choice #futureoftourismthinktank and made up 5 CAMPers we begin to share equally our hopes, dreams, aspirations.
It spills over back into the main room and our workshops begin. At this point it's been a long day and some fatigue sets in, I'm so thirsty on normal days I run back and forth for breaks and water. I learnt it's better to drink bottled water here. Alternating group sessions break out into 4 groups sessions. We learn further insights from Sinorbis COO Dandan Cheng in the eco-system of e-commerce within the China landscape. We learn what makes the critical digital strategy required to implement before launching businesses within China. Raphael Hammel the Design and Innovation practitioner at UTS walked through the Design thinking session. As a product designer, who is familiar with the methodologies of user experience research,  it's always interesting to hear alternative approaches and methods.
The climax of the day sees us in a Grand ball room with the chance to learn from the forefather of China innovation space and author of over 200 articles and more recently "China's Disruptors 2015" and CEO of Gao Feng Advisory Company Dr Edward Tse. He shares the theme of today and sets the tone for the 100 day journey that is CAMP:
Life lesson learned 5# "The world is yours, it continues to expand, the opportunities are right in front of you."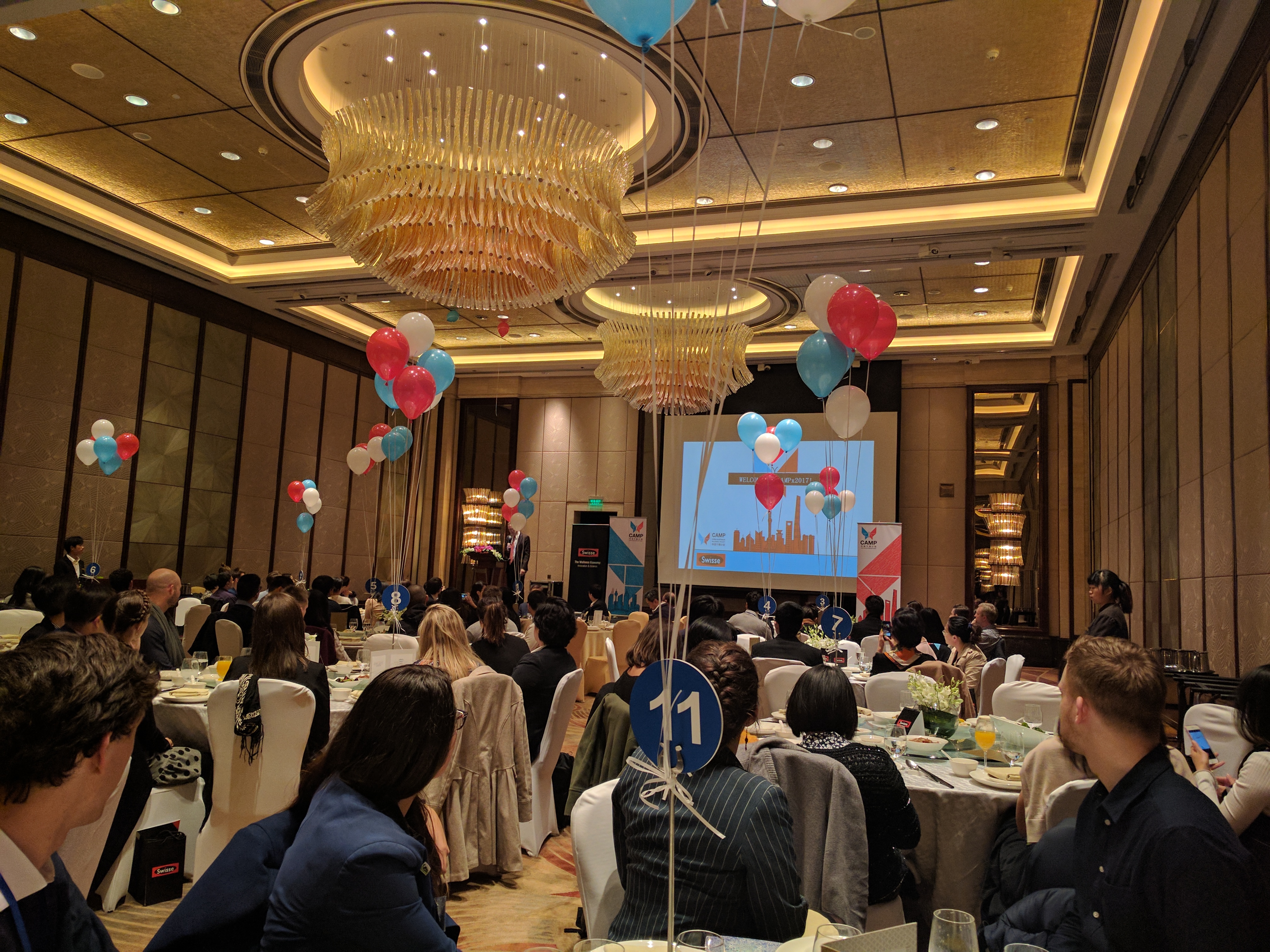 #This is only day 1. #nomorechickennugget