This will take approximately 15mins to read. All views expressed here are my own.
Australia's Landing Pad
Rising for another early start I have breakfast nailed and we jump on board the buses back to the same destination as yesterday. Today we are on another level, in the XNode Startups Accelerator and Co-working Space (one of 3 dotted around Shanghai). XNode has been established to accelerate the growth of startups into scalable, sustainable businesses. There is a strong focus on tech, investor pitch training, demo days and mentorship from some of China's top business minds. Housed within is Australia's Landing Pad, where two startup founders will share their stories with us today. Financed by the Australian Government, Landing Pad is part of the National Innovation & Science Agenda (NISA). NISA is an initiative to transform Australia from an economy reliant on resources and mining into a dynamic and innovative leader; a nation with strong, sustainable economic prosperity. A nation pooling resources together to offset the next industrial revolution : Technology.
"The Fourth Industrial Revolution can compromise humanity's traditional sources of meaning – work, community, family, and identity – or it can lift humanity into a new collective and moral consciousness based on a sense of shared destiny. The choice is ours."
Klaus Schwab (Founder & Executive Chairman of the World Economic Forum)
Day 2#
Open, fresh, sumptuous and colourful interiors are matched with gleaming glass windows that open further into startup 'dens'. You see small groups of residents obscured by their laptop screens hovering over desks and coffee. Relatively quiet for hmm, 9:00am. One of our buses is trailing while CAMPers scatter deeper into this open plan furnished space. I wander up to grab a coffee, but alas there's a lengthy line and our first session, a live stream call with Mungo Youth Project is starting. My friend says 'I'll collect our coffees' while I go back to regain our seats. The stage forum which stretches across the height of the 2 levels is now full with CAMPers listening to Katie Grubb a fellow CAMPer introduce the live stream. Unfortunately due to technical issues (trying to reconnect to Australia) it's called off. Katie explains the continuous work to make stronger ties to promote learning and education programs for both regional students in Australia and throughout the world.
Given the extra time, Andrea and Katie open the floor to us to discuss topical issues affecting culture and education. We hear from CAMPers all impassioned to share stories and reflect on topics like multiculturalism, the stolen generation, education reform, history, national and cultural identities. It's open, raw and uncensored. Before the forum ends and we begin the next session, Andrea summarises and cements her thoughts so eloquently:
LIFE LESSON LEARNED 6#  "The standard you walk by, is the standard you live".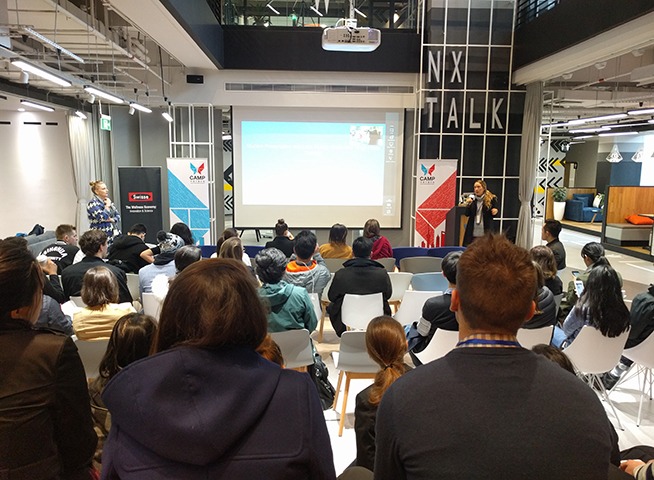 Sidenote: When my friend came back with the coffees during the forum discussion, I started to drink mine. I raised the cup to my mouth, with the lid not fastened, the searing hot milk, coffee and water splashed down all over my clothing. While the discussion continued, I was screaming inside, my friend and I scrambling for tissues. Needless to say I smelt like a skim flat white most of the day.
We break away to our alternating workshop sessions. Together with our new think tanks, (ours is the future of tourism) we workshop 'Presence, Impact and Energy' and 'Communication and Team Identity' with directors of HPCG (High Performance Coaching Global). The interactive sessions facilitated by  Karen Thomas and Louise Watts delve into the ways in which we can make ourselves impactful, purposeful and self aware. We discuss the importance of understanding each other through the lense of interpersonal styles, as well as understanding how we act individually as members of a team.  A fellow CAMPer raises a poignant point in Louise's session: As Chinese and Australians we interact differently within work/life contexts as is true and respective of our cultural nuances. For example there is a  stronger sense of hierarchies within Chinese business settings, a cultural overlay that needs to be acknowledged when conducting yourself in business matters. We break again. Walking to our next session, my thoughts cycle back to what Louise mentioned in the workshop:
LIFE LESSON LEARNED 7# "land your message and land your message strong".
Over catered bento box style lunch of pork, shrimp curry, bok choy, green beans, rice, soup and yoghurt we discuss in our think tanks what we thought of the sessions so far. We talk grand ideas about travel destinations and current technological advances that we could utilise in our solution. We talk about the egg before the chicken has laid it. I look about and everyone is enjoying the surroundings. Re-energized, we are ushered back into the forum, ready to listen to a full roster of speakers.
The 'International Collaboration in China' session is facilitated by Karen Surmon the Senior Trade Commissioner of Austrade. She introduces the programme funded and supported by the Australian Government initiative NISA. They have other landing pads established globally and seek to invest $36M over 4 years. It's an ambitious and aggressive rollout to 'strengthen Australia's international cooperation in science, research and innovation'. We next hear from Wenjun Wang, the Vice-GM of Zhang Jiang Innovation Park. She explains the eco-system support that sits across the wider innovation community and the investment of 1.38B RMB across 45 companies, proclaiming it's the campus for startups. This rolls into a fireside chat with Wei Zhou and Daniel Zhan discussing all things startups and XNode.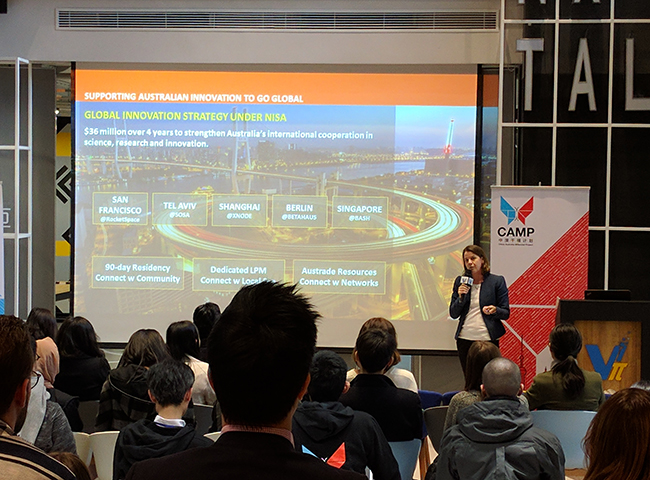 Next up on the roster we have pitch sessions from two resident startups from Australia's Landing Pad programme. First up Brent Pearce of Trendwise. He launches into Trendwise's growth so far and the prospects of working within China. He explains the current applications of Trendwise, which we learn is visitor analytics for physical locations. It reminds me of how, among others, the UN have made available their open source databases. Given the opportunity, this will also prove vital for governments driving towards more sustainable cities. But at this stage Trendwise is a subscription service.
Pawan Lawani founder of Language Your Way follows shortly after. He explains his journey so far and the growth of Language Your Way, which has expanded its platform to new clients and countries. As he walks the room for questions I grab the microphone and ask, "Along with gamification within your platform, how does your startup keep its differentiator?" With apps like Duolingo and traditional e-learning language courses like Rosetta Stone in familiar territory. Pawan remarks back, 'Oh gosh love these questions, where as duolingo is purely a gamification app, Language Your Way is also game-based learning" with immersive online tutoring and study tours to complete its services.
We break before our final 3pm session 'Failure and Competition in China'. I have just enough time in between to meet personally Karen, Pawan and Jasper. I ask Karen in the scenario if a startup began in Sydney, does the programme allow for migration to other landing pads? She answers yes they have strong ties with the Australian startup eco-system and hypothetically a startup can switch, say from Fishburners to also join the other landing pads as per application to the programme.
We dart back to our seats as the session commences into our next presenters. Jill Tang, who herself has launched multiple startups and Andrew Taylor, co-founder of Juawi. Their journeys both express the traits of entrepreneurial spirit that Elise Morris expressed on Day 1. Each with determination and perseverance have pursued their passions and have failed many times before they had established their businesses.
LIFE LESSON LEARNED 8# "Failure is a bruise not a tattoo".
A friend and fellow CAMPer has organised among the activities tonight an impromptu stop to a travel-sharing economy startup called Jojo too. Nestled in Xintiandi, about 15mins from the Bund we are welcomed by Van, Richard and Ryan the founders. They enthusiastically share the premise of the platform, international students becoming travel hosts to welcome their international travellers. At this stage it's marketed only for incoming and outgoing Chinese travellers. Its growth is rapid and they see themselves expanding further into other share industries. They answer questions from the floor across security, support, growth countries, most services requested, integration with local governments and third-party suppliers.
We depart about 40mins later, but not without a group photo first and head towards the central hub of Xintiandi district, a place strewn with boutique restaurants and shops. It's buzzing with tourists and locals alike and the night lights across the autumn leafless trees transport you to another city. Close your eyes and it feels like walking a part of the Champs-Élysées.
We attend another networking event where Andrea is also presenting: Xintiandi Global Venture Capital Party with an artificial intelligence focus. At this stage I bypass dinner and head with a small CAMP group towards the event. We arrive and it is standing room only. We network with VCs, business owners, other entrepreneurs. I also take the opportunity to catch up with fellow CAMPers. One other CAMPer discusses their startup with a unique hardware proposition. I ask 'how has the testing been with customers?' and suggest alternative customers if they need to reach out in the future.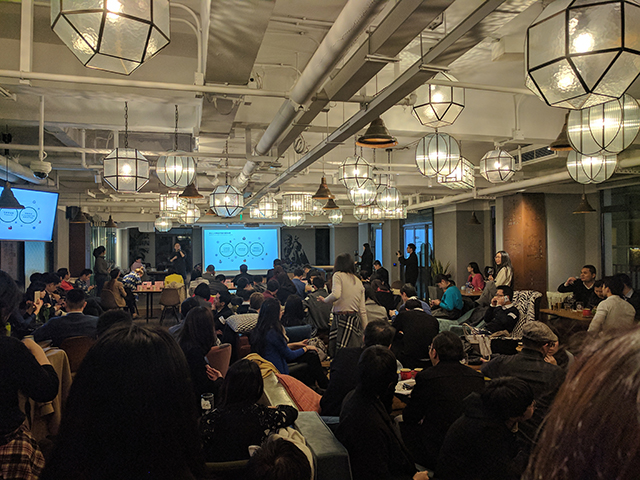 Andrea begins her talk, I can barely make out what she's saying through the noise. She introduces CAMP and Australia but at this point the rooms volume just rises. I turn my attention to networking instead and a friend and I chat about the day and who she has met tonight. It sparks my interest and I request to meet this person as well, she's in property development and mentioned that they require some assistance with customers. My friend introduces us just before we intend to grab some dinner and we exchange cards and talk about their company recently developing 2000 apartments in Melbourne and how they need assistance for improving their customer experience. We arrange to continue the discussion through emails. Before we leave I jokingly turn to my friend first and say 'you know, now you have to be my lawyer', as she's brokered the connection.
The rest of the CAMPers have sourced hot pot for dinner, as we are late the three of us breakaway and rest nearby at Din Tai Fung. Over xiao long bao, vegetable and pork jiao, special fried rice, water spinach with garlic and tea we chat about our days and share stories of back home. One in particular sends us into hysterics and we try to contain our cackles, but the few remaining dinners are peering over their shoulders and through their chopsticks wondering what on earth could be so funny. Through the convenient and ever efficient Shanghai metro, which by the way closes at 10:30pm (making it just in time) we make our way back to our hotel. I empty out my new skim flat white designer wear and call it a night, before the 7:00am rise to visit Alibaba HQ tomorrow.